Panama City Beach Dining
About Liza's Kitchen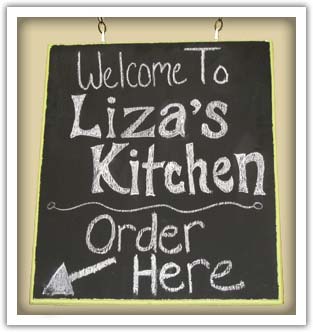 Come see us!

Liza's Kitchen, Cafe & Catering
7328 Thomas Drive, Suite L
Panama City Beach, FL 32408
Map:

Phone: 850-233-9000
Email:
HOURS:
Monday: Breakfast 9am-11am, Lunch 11am-2pm
Tuesday: CLOSED
Wed-Fri: Breakfast 9am-11am, Lunch 11am-2pm
Sat & Sun: Brunch/Lunch 8am-1pm

Dine-In and Patio Seating Available. Beer, wine, liquor and mixed drinks available. Takeout also available. Call (850) 233-9000.

About us...
Liza's Kitchen is unique - a fun and quirky atmosphere where gourmet flavors and fresh ingredients combine with simple ideas and friendly service for the best in tasty comfort food. Our food philosophy is simple: Use only the freshest ingredients and cut NO corners. We make everything from scratch, including Focaccia bread, soups and salad dressings. Even the mayonnaise is homemade! The combinations are limitless because of our wide variety of fresh and unique ingredients.

New ownership...
In June of 2017, original owners Mike & Cat Meek passed the torch to Karl Cady, who brings with him a wealth of restaurant experience and a great love for food. Karl worked with Mike to learn all the recipes from scratch and is keeping all your favorite menu items just the way you like them - exactly the same!

Our history...
Originally created in 2006 by Mike & Cat Meek and named after their daughter, Liza's Kitchen quickly became an award-winning restaurant loved by the local foodies. More than 10 years later, Liza's Kitchen has grown to be one of the most popular restaurants on the beach for locals and tourists alike. Liza's Kitchen has been featured on Beach TV, reviewed in magazines such as Southern Living, won awards from TripAdvisor and has been a top contender every year in the local Reader's Choice awards, "Best of Bay."

What others have said…
"The aroma of Liza's tantalizing fresh bakes Focaccia bread is enough to wet your taste buds."
- Coastal Living Magazine
"For the vegetarian, you can visit Liza's daily and actually have variety."
- Coastal Living Magazine
"The Black and Blue Sandwich, served hot, for example. A stacking of roast beef, blue cheese, red onion and horseradish mayonnaise atop Liza's fresh homemade Focaccia bread—baked every morning. Or the Hippie Chick (my personal favorite): roasted chicken, roasted red pepper, spinach, spicy mayo and melted goat cheese on Focaccia."
- The Circuit Magazine

In the News …
Liza's Kitchen has caught the attention of various media outlets and publishers. Check out our list of stories and articles about Liza's Kitchen:

Become a Fan of Liza's Kitchen!
We use Facebook to announce specials, pass along cooking tips, host giveaways and remind fans of upcoming events. Follow us on Facebook and stay up-to-date on all the latest happenings at Liza's Kitchen!