Panama City Beach Dining
About Liza's Kitchen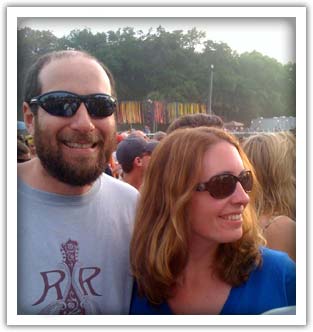 Mike and Cat!

Liza's Kitchen, Cafe & Catering
7328 Thomas Drive, Suite L
Panama City Beach, FL 32408
Map:

Phone: 850-233-9000
Email:
Hours:
Mon-Fri, 11am-4pm
Sat-Sun, 9am-3pm

Our story...
Building a family restaurant together was Cat and Mike Meek's dream when they fell in love in Charleston, South Carolina, at famed Chef Donald Barickman's Magnolia's Grill. Liza's Kitchen, named for their toddler daughter, is the realization of their dream.
Mike and Cat Meek bring a combined twenty-eight years of experience to Liza's Kitchen, much more than their relative youthfulness would suggest. A Panama City native, Cat was fourteen when she got her first restaurant job and continued to work in local restaurants throughout high school and college. A graduate of Florida State University (and Andrew's Capital Grille), she relocated to Charleston and ultimately became a part of the opening management for Cypress Lowcountry Grille, another Donald Barickman project. During this time, she also became a certified sommelier. Mike's route to the restaurant business was different. From Pensacola, Mike graduated from Troy State University and took a road trip to see the country. He ended up in California, where he found satisfying work in a kitchen at a famous winery. Deciding that he really wanted to be a chef, Mike returned to school at Johnson and Wales University in Charleston and graduated in 2001. In Charleston, Mike worked at Magnolia's and as a corporate executive chef.
After they were married in 2002, they decided to head to Colorado to gain more culinary perspective—and do a little snowboarding. There they both gained a lot of new experiences with both food and wine. Cat was responsible for three Wine Spectator award-winning wine lists and Mike learned a great deal working with Chef John Broening and at Parisi Italian restaurant in Denver.
The birth of their daughter gave rise to the birth of Liza's Kitchen. Deciding that it does take a village to raise a child, the Meeks returned to North Florida to be close to family and friends. Within two months of arriving back in Florida, they opened the doors to their very own breakfast and lunch restaurant on Valentine's Day, 2006. Both the family and the restaurant are thriving, and Liza makes an appearance every Saturday morning to enjoy breakfast with the customers.

What others have said…
"The aroma of Liza's tantalizing fresh bakes Focaccia bread is enough to wet your taste buds."
- Coastal Living Magazine
"For the vegetarian, you can visit Liza's daily and actually have variety."
- Coastal Living Magazine
"The Black and Blue Sandwich, served hot, for example. A stacking of roast beef, blue cheese, red onion and horseradish mayonnaise atop Liza's fresh homemade Focaccia bread—baked every morning. Or the Hippie Chick (my personal favorite): roasted chicken, roasted red pepper, spinach, spicy mayo and melted goat cheese on Focaccia."
- The Circuit Magazine

In the News …
Liza's Kitchen has caught the attention of various media outlets and publishers. Check out our list of stories and articles about Liza's Kitchen:

Become a Fan of Liza's Kitchen!
We use Facebook to announce specials, pass along cooking tips, host giveaways and remind fans of upcoming events. Follow us on Facebook and stay up-to-date on all the latest happenings at Liza's Kitchen!